The 2014 University of Illinois Physics REU
Kevin Pitts
1/18/2014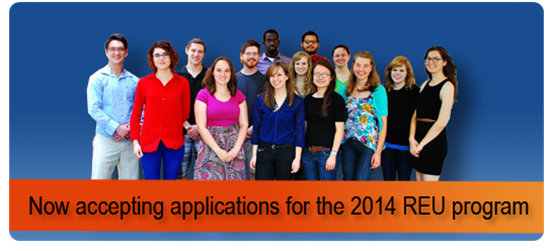 We are now accepting applications for our
2014 summer Research Experiences for Undergraduates
(REU) program. Student feedback says that we have one of the very best programs in the country. In recent years, we have hosted a diverse group of students from schools across the country.
Our program features cutting edge research in biophysics, nuclear physics, condensed matter physics, high energy physics and the physics of music. We supplement the research with seminars to help students learn how to write, speak, present posters and communicate with a variety of audiences. Our program features a tour of Fermi National Accelerator Lab as well as a number of fun social activities.
It's a rewarding, educational, fun summer and a great opportunity to participate in some of the most exciting research in the world.
Our program continues to get stronger each year, and we look forward to a great summer in 2014. Apply online. Deadline for applications is February 15, 2014. A pdf version of the poster can be found here.

This program is supported by the National Science Foundation.