Women in Physics Conference
Novarah
2/2/2014
This post was written by guest blogger, Novarah. She and several other students from Illinois attended the Conference for Undergraduate Women in Physics in January, 2014 at the Unviersity of Chicago.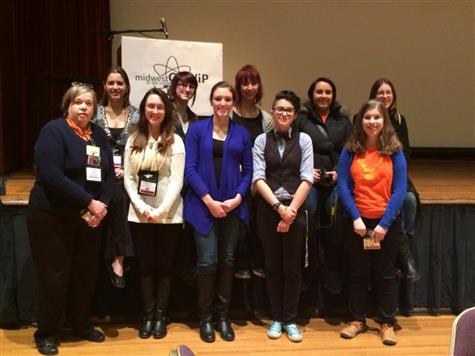 This year, the Conference for Undergraduate Women in Physics was held at the University of Chicago, Florida State University, Louisiana State University, Pennsylvania State University, Stony Brook University, UC Berkeley, University of Maryland, and the University of Utah.
I attended the University of Chicago conference. On Friday, we were given optional tours of the nearby national labs: Fermi National Laboratory or Argonne National Laboratory. It was really exciting to see the ATLAS Accelerator Facility at Argonne and get a tour of lab sites.
During the weekend, we had fantastic speakers from the University of Chicago, the Adler Planetarium, and other universities. The discussion panels were very helpful in letting students voice questions they had about undergraduate research, graduate school, careers, and what it is like being a woman in these environments. The conference was particularly helpful in letting us know about challenges that we might face in our careers and the wide range of paths we may take. During the poster presentations, we got to talk to other students about their research. We saw a variety of research labs and experiments during the campus lab tours. These are really helpful in giving students an idea of what working in a lab or research group might be like. It allows them to learn about different areas of physics that they may not get to learn in classes.
Networking was a major focus as we spent a lot of our time in groups for tours and activities. The conference events helped build a sense of community with the other attendees. I got to meet so many female physics majors throughout the weekend and I hope they become familiar faces when I attend graduate school and continue my career.
The annual WIP conference is one of my favorite events. I have been lucky enough to attend it for four years in a row. It is great to meet other female physics majors and listen to the inspiring words of the guest speakers and to develop a stronger sense of community. The Conference for Undergraduate Women in Physics is a wonderful place to get information from personal stories to ongoing research. I hope all students get to attend conferences like this.