MacDougall selected for NSF CAREER Award
Siv Schwink
9/1/2015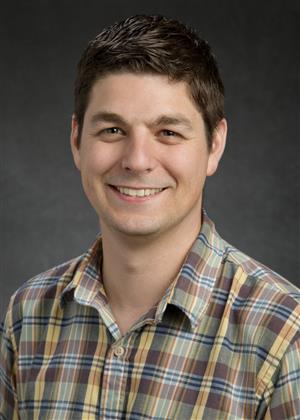 Gregory MacDougall, an assistant professor of physics at the University of Illinois at Urbana-Champaign, has been selected for a prestigious NSF CAREER Award. The Faculty Early Career Development (CAREER) Award of the National Science Foundation is conferred annually in support of junior faculty who exemplify the role of teacher-scholars by integrating outstanding research with excellent education. Receipt of this honor also reflects great promise for a lifetime of leadership within recipients' respective fields.
MacDougall is an experimental condensed matter physicist, specializing in synthesizing novel compounds and growing large single crystals in his two labs at the Frederick Seitz Materials Research Laboratory. In his research, MacDougall explores the fundamental properties of these novel materials. Using advanced probe techniques available at national laboratories, such as neutron scattering and muon spin rotation (muSR), his group observes and characterizes emergent phenomena.
Of primary interest to MacDougall and his lab group are orbital order, the effects of magnetic frustration, the interplay between magnetism and superconductivity in correlated materials, and the coupling between spin, charge and lattice degrees-of-freedom in condensed matter systems.
MacDougall received a bachelor's degree in mathematical physics from Simon Fraser University in 2002; he received the Rudy Haering Award for having the highest marks among physics students in his graduating class. He went on to earn his doctoral degree in physics from McMaster University in 2008, where he explored the magnetic properties of unconventional superconductors using techniques such as muSR, magnetometry, and neutron scattering. MacDougall then completed a postdoctoral fellowship at Oak Ridge National Laboratory, in its Quantum Condensed Matter Division. There he used primarily neutron scattering facilities at the Spallation Neutron Source and the High-Flux Isotope Reactor to explore material properties of frustrated antiferromagnets, high-temperature superconductors and thin-film multiferroics. MacDougall joined the faculty at Physics Illinois in 2012.
MacDougall is also the recipient of a 2011 Gordon Battelle Award for Scientific Discovery, conferred by the Battelle Memorial Institute.