Klaus J Schulten
Professor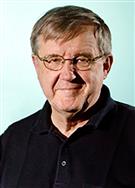 Primary Research Area
3147 Beckman Institute
For more information
Biography
Professor Schulten received his Diplom degree in physics from the University of Muenster, Germany in 1969, and a Ph.D. degree in chemical physics from Harvard University in 1974. He was an assistant at the Max-Planck-Institut for Biophysical Chemistry from 1974 to 1980, and Professor of Theoretical Physics at the Technical University of Munich from 1980 to 1988. In 1988, he joined the Department of Physics at the University of Illinois.
Since coming to Urbana, Professor Schulten has founded the internationally recognized Theoretical and Computational Biophysics Group as well as a National Center for Biomolecular Modeling and Bioinformatics. Schulten's research applies concepts and methodologies from condensed matter physics to the organization and function of the machinery in biological cells. His group has made fundamental contributions to numerous areas of biology, most recently to vision, photosynthesis, force generation, membrane channels and large scale cellular organization.
Professor Schulten has made profound advances to theoretical biophysics where he studied how biological processes are well controlled despite strong thermal disorder. He also contributed to the state of the art in computational biology having been the the first to demonstrate that parallel computers could be practically employed to solve the classical many-body problem in biomolecular modeling. Thousands of researchers world-wide use this group's software in molecular graphics, modeling, and web-based collaborations. Presently his group is engaged in a revolutionary computational method, interactive modeling, that exploits advances in game technology to graphically steer and interact with ongoing simulations.
Research Statement
Theory and Simulation of Biopolymer Aggregates
Our research focuses on the structure, dynamics, and function of biopolymer aggregates, e.g., lipds and proteins forming the photosynthetic apparatus in plants that absorbs sun light and produces the energy-rich molecule ATP. The studies require very-large-scale computer simulations and have become possible through the development of statistical mechanical theory, efficient algorithms, graphics tools, a simulation program, and the group's network of powerful workstations which function as a high-performance parallel computer.
MDScope is an integrated set of computational tools which functions as an interactive visual computing environment for the simulation and study of biopolymers. The project implements standard visualization and simulation methods and offers a foundation for testing new algorithms and capabilities.


At the core of MDScope are three major software components:
- VMD - a visualization program for interactive display and animation of molecules;
- NAMD - a parallel, distributed-memory, molecular dynamics program designed to be scalable, modular, and portable;
- MDComm - a protocol and library which functions as the communications agent between VMD and NAMD.
The programs can be used together or independently.
Honors
Professor in the Center for Advance Study, University of Illinois (2013)
Distinguished Service Award, Biophysical Society (2013)
Fellow of the Biophysical Society (2012)
IEEE Computer Society Sidney Fernbach Award (2012)
Award in Computational Biology, International Society of Quantum Biology and Pharmacology (2008)
Humboldt Award of the German Humboldt Foundation (2004)
Swanlund Endowed Chair, University of Illinois (1997)
Selected University of Illinois Scholar (1996)
Fellow of the Institute of Advanced Studies, Hebrew University (1994, 1998-99)
Fellow of the American Physical Society (1993)
Nernst Prize of the Physical Chemistry Society of Germany (1981)