Merissa Jones receives Engineering Council Outstanding Advising Award
Siv Schwink
5/1/2019
Illinois Physics Senior Academic Advisor
Merissa Jones
was selected for the 2019 Engineering Council Outstanding Advising Award. This award is presented annually to the top 10 percent of advisers in the College of Engineering. Recipients are nominated and selected by engineering undergraduate students. This is the second year running Jones has received this honor.
"I am genuinely honored to have been nominated for this award. I love what I do and enjoy working with our students. As an advisor, my goal is to help each student to my fullest ability and to enrich their journey through our superb undergraduate programs."
Illinois Physics Associate Head for Undergraduate Programs and Professor Brian DeMarco comments, "This recognition is well deserved. Merissa plays a central role in our undergraduate programs as our senior (and only) advisor. For her caseload of over 650 physics students, Merissa provides high-quality and compassionate advising on academic and life issues. Her expertise and her master's degree in educational policies with a concentration in diversity and equity issues are especially valuable to our students. Merissa is also a superstar recruiter who meets with many prospective students and their families. And, she has provided terrific leadership. For example, Merissa developed and manages our peer mentoring program."
For the last seven years, Jones has worked to make sure all undergraduate physics students are on track not only to graduate, but to meet their career goals. When she is advising the department's more than 650 physics majors in two colleges, she believes it's important to help each student examine his or her unique aspirations, whether they're headed toward a professional career or an advanced degree. She notes that career goals evolve over the course of a four-year program, as do the requisite skillsets and experiences.
"It's a proud moment for me, each year when commencement rolls around," she shares. "I know what each of these students have achieved—what hurdles they've overcome. Our students are really impressive!"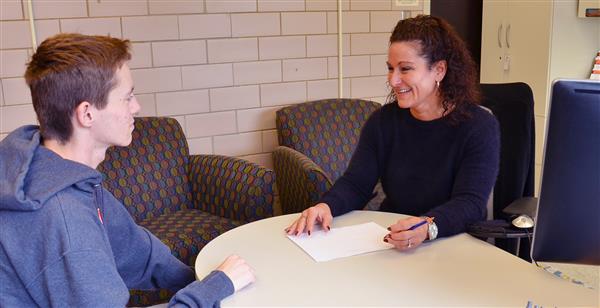 Jones meets with each freshman and sophomore physics major at least once each fall and spring semester to review progress toward degree and planned courses. During this mandatory advising, she also checks in to see how each student is coping with the stresses of university life and a rigorous major And she always encourages students to come back to see her if any concerns or questions come up.
"Some of our students benefit from having additional resources and support," notes Jones, "whether academic or emotional. I'm here as an advocate—my role is to let them voice how they are doing and point them to resources that can benefit them."
Jones connects high-achieving students and international students to important resources within the University's network of enrichment opportunities. She also connects at-risk students with academic-support and campus counseling resources, supporting and guiding the necessary return to good academic standing with some motherly "tough love." And even at her busiest, she does her best always to make time for students who may need her attention.
Additionally, Jones meets with prospective and admitted students and their families, organizes the PHYS 110 Physics Orientation course and the PHYS 199 Physics Careers and Research course, and coordinates the department's peer- and faculty-mentor program. And she works closely with Engineering Career Services to provide students with professional development opportunities at each stage of their four years at the university.
The award was presented to Jones at the 2019 College Faculty Awards Ceremony on April 29, 2019.